It's been a hard year. During the COVID-19 pandemic, our community has faced a number of new challenges as we have worked to protect each other's health and well-being. Perhaps one of the biggest of those challenges has been separation from others – whether that means forgoing in-person gatherings, grabbing coffee with a friend, or visiting a loved one who is receiving care at the hospital.
As we come closer than ever to putting the pandemic behind us, we are pleased to announce that our visitation restrictions are relaxing, and loved ones are welcome again. We know that it has been difficult to be apart from family and friends who are receiving care, and we want to thank you for your patience and understanding while restrictions were in place to protect the health of our patients and staff.
We are so pleased to welcome our patients' loved ones back to the hospital to visit. Our updated visitor policy can be found below.
It's been a hard year. Let's make the next one better…together.
VISITOR POLICY (as of May 24th, 2021)
At Rutherford Regional, our top priority is safeguarding the health and wellbeing of our patients, providers, employees, and community. We continue to closely monitor the prevalence of COVID-19 in our community and follow state and federal guidelines as we adapt our operations to safely care for and support our patients.
The following visitor restrictions have been implemented at our facility.
UPDATED VISITOR RESTRICTIONS
Our facility is open to pre-screened visitors and guests.
Access through the main entrance is available between 6 AM - 9 PM (accessible from Hospital Drive )
Access through Outpatient Services is 6 AM - 5 PM (accessible from Dr. Henry Norris Drive)
Our dining and vending areas are open. Dining hours are 6:30 AM - 9:30 AM for breakfast and 11 AM – 1:30 PM for lunch.
All designated visitors are required to wear an appropriate mask or face covering. The CDC's new masking guidance for fully vaccinated people does not apply to healthcare settings. We are continuing to wear masks out of an abundance of caution and to protect our patients and each other.
We continue to screen everyone who enters our facility for symptoms consistent with COVID-19, per CDC guidelines.
Signage is posted around the facility notifying visitors and the community of these restrictions and guidelines.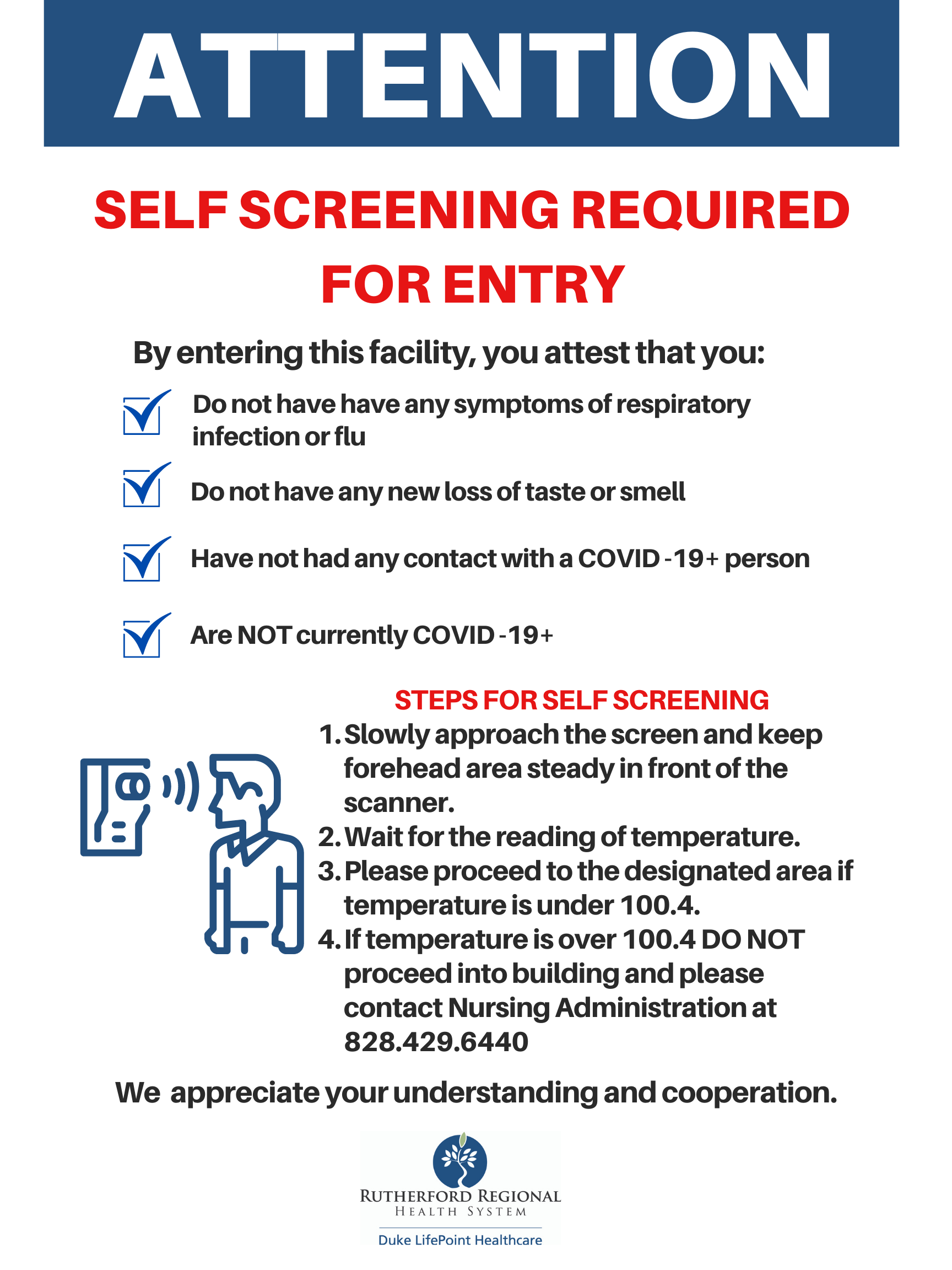 Until further notice, all health care facilities must perform a health evaluation of all individuals that are not under the care of the facility each time the individual seeks to enter the facility and must deny entry to those individuals who do not meet the evaluation criteria. The evaluation criteria include:
​Contact in the last 14 days with someone with a confirmed diagnosis of COVID-19
All individuals entering the facility must wear an appropriate mask or face covering at all times.