Departing CEO Rebecca Segal: 'The Future is Bright for RRHS'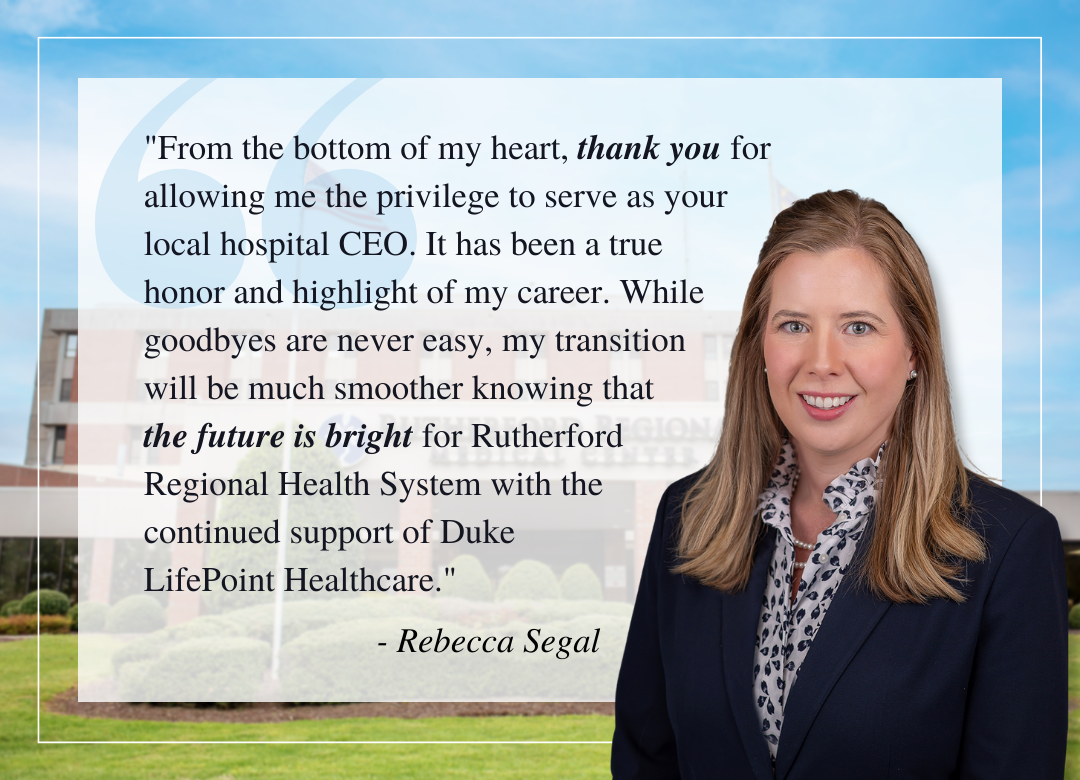 Earlier this month, I announced plans to leave my post as CEO at Rutherford Regional Health System. As I shared with my team, this was a difficult decision for me and my husband Rick, but ultimately afforded a rare opportunity to move closer to our family and lead a large health system, not far from where I grew up in Virginia. In my final days here, I would like to express my gratitude to each of you and the place I have called home for the past five and a half years.
In 2017, my husband Rick and I seized the chance to relocate to Rutherfordton, and this wonderful hospital and community graciously welcomed us with open arms, laying the foundation for many new friendships and memories. As I reflect on the past several years here, there have been many defining moments and milestones that have strengthened our facility for the future:
We completed a multi-year $17 million master facility plan, which included renovated medical floors and endoscopy suites, a new cardiac catheterization suite, and equipment upgrades for digital imaging, surgery and patient monitoring.


We have recruited many new primary care providers and specialists to the region. This includes OB-GYN providers, general surgeons, and more recently a new interventional cardiologist to ensure our community doesn't have to travel far for the care they need.


We have expanded access to care through online scheduling and the implementation of new key services including 3D mammography and a vein clinic.


Our team has been recognized for the high-quality care we provide, raising our Leapfrog Hospital Safety Grade to "B" and earning the BlueCross BlueShield Center of Distinction for Hip and Knee Replacement, Commission on Cancer accreditation from the American College of Surgeons and Chest Pain Center accreditation from the American College of Cardiology.


Our hospital continues to be a strong community partner, collaborating with the city of Rutherfordton on the local response to COVID-19, the Ruff'ton Roots community garden and our hospital's recycling program. And we have been a proud sponsor and support of local events including the Hilltop Festival, Mayfest, the Forest City and Rutherfordton Christmas parades and the ROC Race series.
I'm proud of all we have accomplished together during my tenure here and know I'm leaving this community with a stronger hospital, well positioned for growth in the years to come. You and your loved ones will continue to be cared for by a strong, compassionate team of physicians, nurses and staff, who are proud to serve their neighbors, family members and friends, just as this hospital has for more than 116 years.
From the bottom of my heart, thank you for allowing me the privilege to serve as your local hospital CEO. It has been a true honor and highlight of my career. While goodbyes are never easy, my transition will be much smoother knowing that the future is bright for Rutherford Regional Health System with the continued support of Duke LifePoint Healthcare.
Thank you,
Rebecca Segal
Read All Posts